cMT-FHD – HMI with External Touch Monitor of Your Own Choice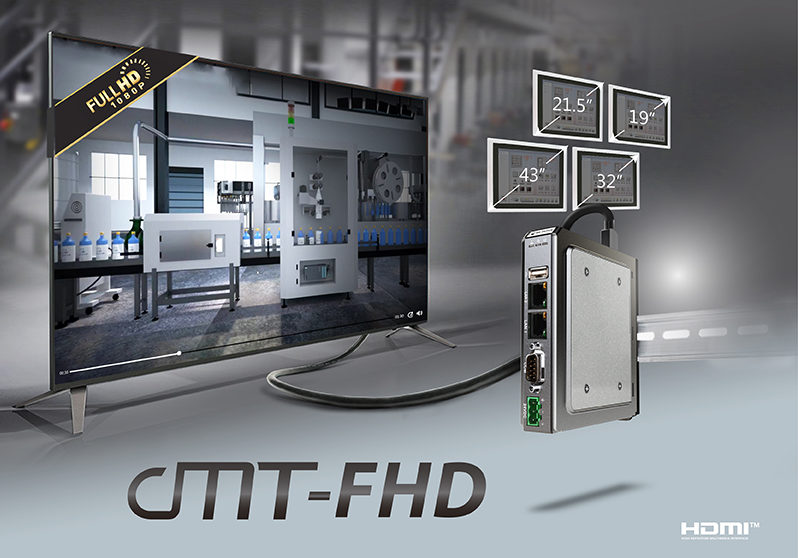 Product Introduction
Weintek now proudly releases cMT-FHD!
As a member in the cMT Series, cMT-FHD has inherits all the rich HMI functionality found in the series. Without touchscreen, the HDMI-enabled unit sends visualization and sound via HDMI to a large screen monitor, and supports operation using an external touchscreen or a mouse. The size of it, comparable to one's palm, makes it well suited in any corner on site, yet it can output video that can be shown on a very large screen, helping adopters command control of their own HMI screen size instead of being limited by those available on the market. This new generation product provides more powerful image processing capability, supporting 1080p (Full HD) video playback and smooth transition animation to deliver unprecedented visual experience on large screens.
cMT-FHD provides support for remote monitoring. By running cMT Viewer application on cMT-iV5, smartphones, tablets, or Windows PC, and by combining with VNC Server and remote access service EasyAccess 2.0*, users can effortlessly achieve remote monitoring. cMT-FHD is also suitable for Andon system. It can collect equipment and quality management data from the production line, process the data, and then send video/audio to a large screen monitor via HDMI, allowing real-time monitoring and control for onsite operators. Additionally, by providing powerful connectivity, including the de-facto IIoT protocol standards: MQTT and OPC UA*, SQL database connection, as well as more than 300 communication protocols, cMT-FHD is poised to meet various types of integration needs that may arise in future smart factories.
cMT-FHD Features

Built-in HDMI Interface and Customizable Resolution
Users are free to customize the resolution that is most suitable for the device; HDMI interface outputs high definition audio and video signals.
Industrial Touchscreen Display Support
Via USB interface, touch feature works with most industrial touchscreen monitors on the market. (tested models are listed in EasyBuilder Pro)
High Performance HMI
Dual-Core Cortex-A9 1GHz CPU allows 1080p Full HD video playback; built-in 4GB Flash provides ample storage space for historical data.
Rich I/O
Dual-Ethernet, USB Host 2.0, COM1: RS-232/ COM2: RS-485 2W/4W/ COM3: RS-485 2W.
Wide Input Voltage Range
Supports 10.5~28V DC wide voltage range input for installation in varied power conditions.
Powerful Connectivity
Supports more than 300 drivers, most of which are for major brands of PLCs and controllers.
Diverse Remote Monitoring Solutions
Using VNC, cMT Viewer, and EasyAccess 2.0 makes remote monitoring extremely easy.
IIoT Protocol Support
Supports IIoT protocols standard: MQTT and OPC UA*, and SQL database connection, ensuring seamless integration in various applications.
*Note: EasyAccess 2.0 and OPC UA Server are optional software features for cMT-FHD
Applicable software version: EasyBuilder Pro V6.02.01 or later (download)
* The terms HDMI, HDMI High-Definition Multimedia Interface, and the HDMI Logo are trademarks or registered trademarks of HDMI licensing Administrator, Inc.