cMT-G01: Smart Communication Gateway with HMI data processing capability quickly builds an IIoT environment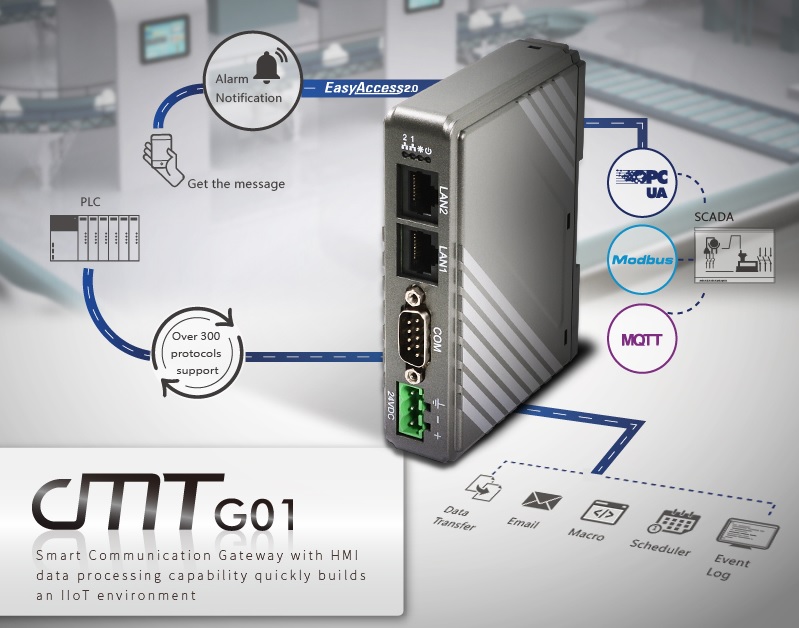 Introduction
In an IIoT application, data integration plays a very important role. To achieve data integration, it is essential that the communication between onsite machines and upper layer data management systems (SCADA, ERP…etc.) be seamless. However, in a factory where each controller uses a unique driver for communication, data integration is extremely difficult.
Having more than 20 years of rich experience in developing HMI, Weintek RD Team has released the IIoT smart communication gateway model: cMT-G01, as the best solution for data transfer and integration in IIoT. Built in with the de-facto standard IIoT protocols: MQTT and OPC UA while having the ability to process data as conventional HMI, cMT-G01 fulfills the demand for 「Protocol Integration」 of different controllers, 「Data Acquisition and Analysis」 from onsite machines, 「Secure Data Transmission」 to the upper layer data management systems, and 「Real-time Event/Alarm Notification」 to the operator. cMT-G01 can perfectly upgrade a factory to a smart factory.
Advantages
Protocol Integration


Unlike other communication gateway products that will incur high cost on system integration owing to limited connectivity, cMT-G01 can communicate with more than 300 brands of controllers, and then transmit all data of controllers to SCADA or ERP system. cMT-G01 completely integrates multiple devices into one.


Data Acquisition and Analysis


cMT-G01 is equipped with the data acquisition and analysis functions of an HMI (e.g. store event log…etc.). It can not only implement Data Transfer (e.g. recipe data…etc.) between devices, but also runs Macro to perform arithmetical and logical operations, and to convert raw data into meaningful information. In addition, cMT-G01 supports Scheduler that will trigger events at a specified time.


Secure Data Transmission


The two major IIoT protocols: MQTT and OPC UA built in to cMT-G01 support TLS/SSL certificate system for transmitting data securely from onsite machines to upper layer systems. On the other hand, in accessing remote devices via cMT-G01 with EasyAccess 2.0, the VPN channel provided by EasyAccess 2.0 is also encrypted with TLS/SSL that will ensure data integrity and provide protection against hackers.


Real-time Event/Alarm Notification


cMT-G01 can send email to inform users about the operation status of the onsite machines, and use MQTT Publish function to send updated data or messages to immediately notify subscribed users. With EasyAccess 2.0 Push Notification function, users can also receive immediate notifications about the operation status of onsite machines, which greatly improves efficiency and reduces the loss caused by unplanned machine downtime.

Features
High Performance


Equipped with RISC-based Cortex-A8 600MHz CPU, cMT-G01 is very compact and energy efficient. cMT-G01 has rich communication interfaces: Gigabit Ethernet port and RS-232 / RS-485 Serial port, to meet diverse application requirements.


Remote Access
cMT-G01 supports remote access service: EasyAccess 2.0. The cMT-G01 installed in the factory can be accessed by users in a remote location, enabling users to obtain operation status of onsite machines, maintain controllers connected to cMT-G01.

Diversified Protocol Gateways


cMT-G01 supports Modbus protocol. With cMT-G01 performing protocol conversion, upper management system can access any cMT-G01-attached controller simply by Modbus TCP/IP. In addition, the built-in MQTT Server / Client and OPC UA Server on cMT-G01 enable easy integration of distinct onsite devices, and facilitate data transfer to the upper layer data management systems such as SCADA or ERP.

User-defined Macro


cMT-G01 can run user-defined Macro to perform Logical / Arithmetical operations and System Tag determination. This capability gives users with complete operational status of onsite machines. Furthermore, Macro supports Conversion Tag, which is used to scale, calculate or convert linear or non-linear data into meaningful data automatically.

Upgrade existing deices to connect to IIoT


With cMT-G01, conventional HMIs that do not support MQTT or OPC UA, all onsite machines' data can be transmitted using MQTT or OPC UA protocols to the upper layer management system such as SCADA or ERP.