cMT Smart Monitor and Control – Monitor Mode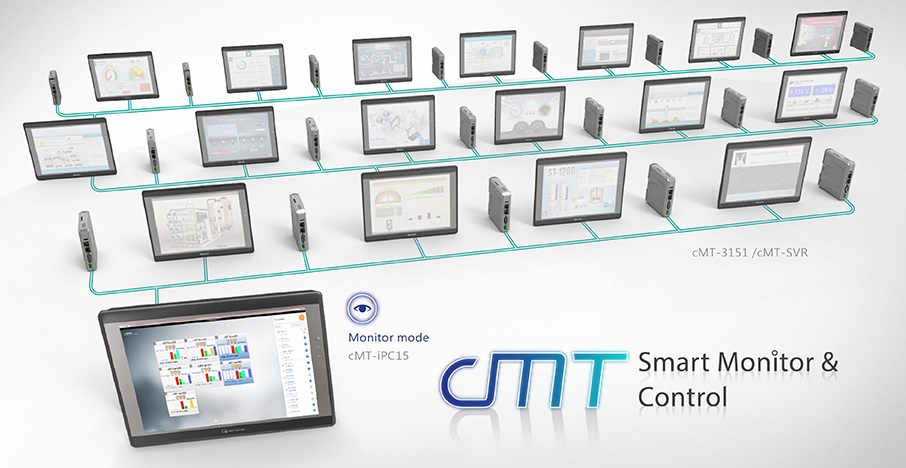 In the era of Industrial Internet of Things (IIoT), not only can the interconnectivity of the equipment be accomplished by using standardized protocols such as MQTT and OPC UA, the operator can easily monitor and control the onsite machines via internet, and use the upper layer management systems, such as SCADA, MES, ERP…etc, to immediately access the data produced by factory machines and achieve centralized management.
Weintek smart HMI, cMT Series, realizes the most ideal architecture responding to IIoT. The cMT Series not only support the standardized IIoT protocols: MQTT and OPC UA, its innovative architecture breaks the boundary of the conventional point to point control and information display, enabling the operator to flexibly choose the interface that best suits the need. For instance, the operator can use a wired cMT-iV5 or a wireless tablet to monitor and control multiple onsite HMIs. On the other hand, the HMI used can be cMT3151 with touchscreen or a screenless cMT-SVR depending on applications.
For achieving the best HMI monitoring and control efficiency, Weintek RD Team has continuously been working on optimizing cMT application software, and now, we proudly introduce cMT Monitor Mode. By launching cMT Viewer and selecting Monitor Mode on a PC (ex: cMT-iPC15), the operator will be able to monitor multiple screens of cMT3151/cMT-SVR. The cMT Viewer Monitor Mode provides real-time status of onsite devices and realizes all-round monitoring.
cMT Monitor Mode Features
User-defined Monitor View


In cMT Viewer Monitor Mode, the user can select up to 50 HMI screens to monitor, and quickly switch between them, which significantly improves the efficiency and saves valuable human resource. The user friendly cMT Viewer Monitor Mode offers 3×3 and 5×4 tile view, and restores last view settings when reopened.

Real-time Data Monitoring
The user can view real-time data in Monitor Mode by adding the corresponding addresses to window no.3 in the EasyBuilder Project file.

Alarm Notification


When error occurs on the onsite machine, a red light badge will be displayed in monitor screen, to help the user quickly fix the issue and reduce the risk of sudden shutdown.


Remote Monitoring and Control


With the help of the remote access service, EasyAccess 2.0, when running cMT Viewer Monitor Mode on PC, all the onsite cMT Series HMIs can be monitored remotely, and keep the user fully informed about the onsite machine's operation status.