cMT2128X – 12" cMT X HMI Debut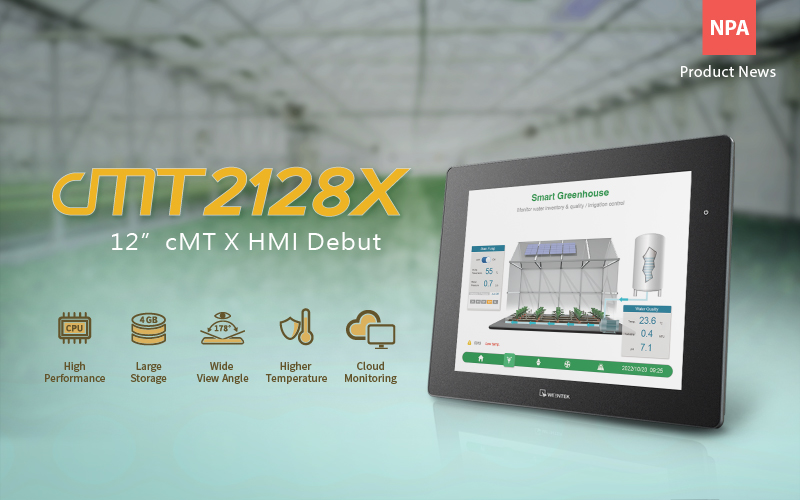 New 12"HMI Debut
Fast, smart, and stable, the cMT X Series has won much acclaim since its initial launch. Acknowledging ongoing demands for certain markets, Weintek is pleased to announce the release of the first 12" cMT X Standard HMI: cMT2128X. This new model incorporates new hardware and software designs that are needed to satisfy today's requirements.
cMT2128X is equipped with powerful hardware, including a quad-core CPU, 4GB of Flash memory, 1GB of RAM, an 89° all-around wide viewing angle display, dual-Ethernet ports, and complete serial port options (RS232 2W/4W, RS485 2W/4W, SIEMENS MPI), all of which contribute to an exceptional operating experience. In terms of software, it offers many cMT X exclusive features, particularly in secure file transfer, multimedia support, and mobile/remote monitoring, all designed to improve work efficiency and HMI applicability.

Seamless Transition
Those upgrading to cMT2128X will find the transition quick and easy. First of all, it uses the same cutout dimension (305*231mm) as previous 12"models, meaning that hardware modification will not be needed. Furthermore, its screen resolution (1024*768) is the same as the existing 12"models, so there is no need for project redesign, which saves plenty of time and manpower. For selected few features that cannot be directly converted, update reports and modification guidelines are provided to ensure a seamless transition.
Facing the future full of challenges and uncertainties, we believe that cMT2128X, with its competitive hardware and software capabilities, will fit the bill for the latest industrial applications.
cMT2128X Spec Highlights