cMT3072XHT Advanced Model HMI – Wide Temperature, Wide View Angle, High Performance, High Durability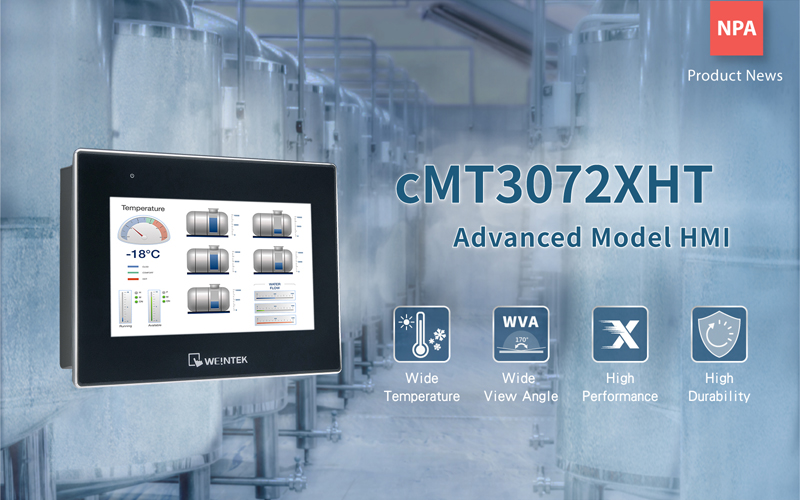 Beyond commercial and conventional industrial use, HMI sometimes finds itself operating in harsh environments or severe weather conditions. In order to accommodate these special needs, Weintek is introducing a new 7" model: cMT3072XHT. The new model features aluminum enclosure with industrial-level protective designs that make it the preferred choice for harsh environment installations.
Premium Protection
First of all, cMT3072XHT is protected by its aluminum enclosure which is significantly more durable with better heat dissipation and EMI immunity. It is also equipped with a specialty chip to ensure stable operation in its wide temperature range: -20°C ~ 55°C. Other protective designs include power isolation, PCB coating and NEMA4/IP66 compliant front panel, allowing cMT3072XHT to withstand harsh environments.
Function and Form
In addition to the protective designs, for cMT3072XHT, both function and form matter. It has a quad-core CPU and high resolution 1024 x 600 screen (WVA, 85° all-around), delivering exceptional user experience. Form-wise, the anti-scratch metal surface features textured finish, with the front panel characterized by polished edges that accentuate its streamlined look and craftsmanship.

All-round Software Support
Being an Advanced cMT X Series model, cMT3072XHT provides a multitude of enhanced software features. For IIoT integration, the built-in OPC UA server, MQTT cloud protocol, and SQL database connection facilitate cross-platform data integration. As for smart/remote monitoring, VNC Server, WebView (Web access), cMT Viewer (App access), and Weincloud (Remote access) are all available, and it's just a matter of which to use!
Seamless Upgrade with Minimal Effort
Those upgrading to cMT X should find the transition seamless. First, cMT3072XHT installation requires the same cutout dimensions as eMT3070B, meaning that structural modification will not be needed. In terms of project migration, converting an existing project is as simple as selecting another model, so there is no need for project redesign. As for the features that cannot be automatically converted, update reports and modification guidelines are provided so that upgrade process can proceed with minimal effort.
Despite the challenges and uncertainty presented by harsh environments, cMT3072XHT's strong protective designs, hardware performance, powerful connectivity, and data integration capabilities make it an excellent choice for your next application.