Dashboard Subscription Licensing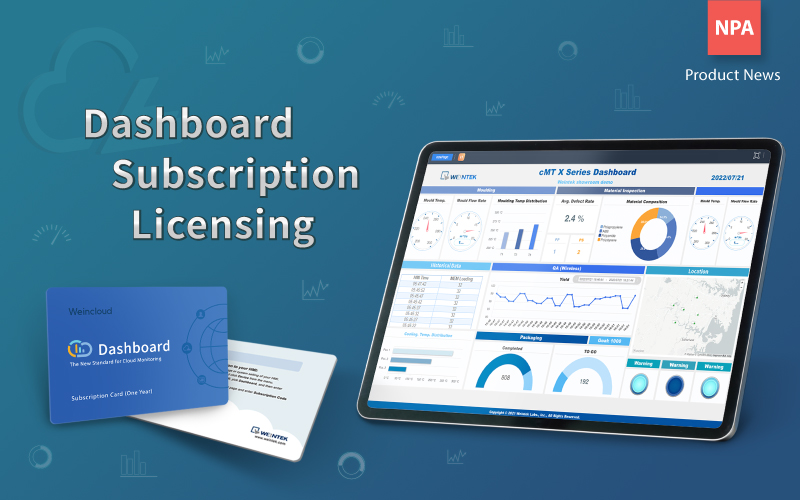 It's about time! Weintek is pleased to introduce a new licensing model for Weincloud-Dashboard. Under the new licensing model, licenses are annual subscription-based and per-HMI, meaning that each HMI must hold a valid subscription license in order to use the Dashboard service. Along with the licensing roll-out, the Subscription Card will be available for purchase as well. A Subscription Card contains a subscription code which users may use on the Weincloud website to load subscription to an HMI and start its Dashboard service right away!
In addition to Dashboard, EasyAccess 2.0 – the remote access service, is also technically part of Weincloud. However, Dashboard and EasyAccess 2.0 are two distinct types of service and therefore they will be licensed separately. Following this update, Dashboard subscription may be added to any cMT X HMI model regardless of its EasyAccess 2.0 activation status. Users are free to use either feature or both according to their needs.
New Features
In this update, there are also new features. First, the device management page now provides a more intuitive UI supporting drag and drop operation. For the dashboard, the much anticipated widgets such as Tag-History, Map and HMI location will be available for use.

Still hesitating? Sign up for a 90-day free trial now to experience the new way of remote monitoring.

About Dashboard
Weintek's Dashboard helps aggregate data from different sources and display them on a single dashboard. Please contact your distributor about how to purchase a Dashboard Subscription card.