cMT-SVR-200 – A New cMT-SVR Model, Just Perfect for Wireless Industrial Applications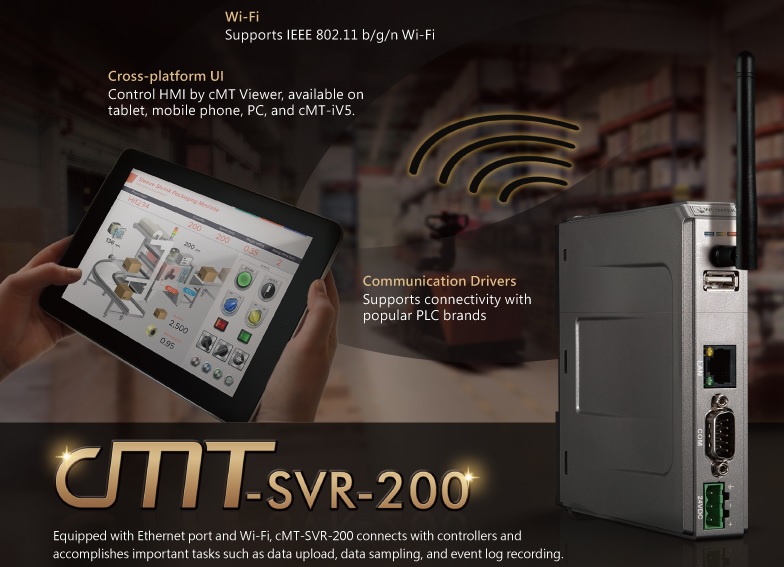 Product Introduction
Over the past years, Weintek has continuously invested in research and development for cMT Series innovations. As the series gradually grows with more capabilities, it is gaining acceptance in IIoT applications, which rely heavily on network communication support. Nonetheless, Weintek is aware that not all factories were built with network connectivity in mind. In many cases, establishing network and wiring tend to be an obstacle for upgrade, and it is especially true when installation needs to be made on a moving platform. In such cases, Wi-Fi connectivity comes to the rescue. In light of this, Weintek now introduces a new wireless model, cMT-SVR-200, which is based on cMT-SVR-100 with added Wi-Fi connectivity.
Being the pioneer in breaking through the limitation of conventional one-machine-to-one-screen architecture, the screenless cMT-SVR Series has truly been the one of a kind, cross-generation product that showcases Weintek's innovative cMT architecture, and cMT-SVR-200 has definitely inherited all the key characteristics, including multi-display and remote monitoring. By running cMT Viewer App on a tablet, mobile phone, or PC, the operators are able to wirelessly monitor and control multiple cMT HMIs. Even when the operator is not on site, EasyAccess 2.0 makes remote monitoring possible while at the same time allows pass-through connection to a remote PLC. Without a touchscreen, cMT-SVR-200 can be installed inside a control cabinet, thus eliminating concerns over screen wear loss. But when a screen is needed, installing a cMT-iV5 will suffice. Compared to its predecessor, cMT-SVR-200 adopts wide input voltage range adaptable to varied power conditions. In addition, the Wi-Fi in cMT-SVR-200 supports 802.11b/g/n wireless communication standards and WPA/WPA2 security, enabling HMI to send/collect valuable data effectively, accurately and safely in harsh and complex industrial environment.
Now with the release of cMT-SVR-200, users are now provided with a new choice that will help overcome wiring obstacles, within the great cMT architecture. Be ready to meet cMT-SVR-200, the next generation HMI for your true wireless industrial applications.
cMT-SVR-200 Features

Industrial Wi-Fi
Supports wireless standards 802.11b/g/n. Designed with robustness against interference for industrial environment. Detachable antenna design allows using third party antennas suitable for the environment.
Rich I/O Interfaces
Ethernet port, USB Host 2.0, Serial Port: COM1: RS-232 COM2:RS-485 2W/4W COM3: RS-485 2W
High Reliability
Industrial level protections: PCB coating and power isolation ensure durability and reliability in any harsh environment.
Storage Capacity
Offers not only a significant amount of storage capacity but also allows using external USB disk / SD card to as storage space.
Wide Input Voltage Range
Supports 10.5~28V DC wide voltage range input for installation in varied power conditions.
Powerful Connectivity
Supports more than 300 drivers, most are which are for major brands of PLCs and controllers.
EasyAccess 2.0
EasyAccess 2.0 can help remotely access HMI data and allows pass-through connection to a remote PLC. The EasyAccess 2.0 license is included on cMT-SVR-202.
IIoT Protocol Support
Supports MQTT and MODBUS TCP/IP Gateway, ensuring seamless system integration and integration with cloud platforms.
Applicable software version: EasyBuilder Pro V6.02.02 or later (download)