iR-ECAT – EtherCAT Communication Coupler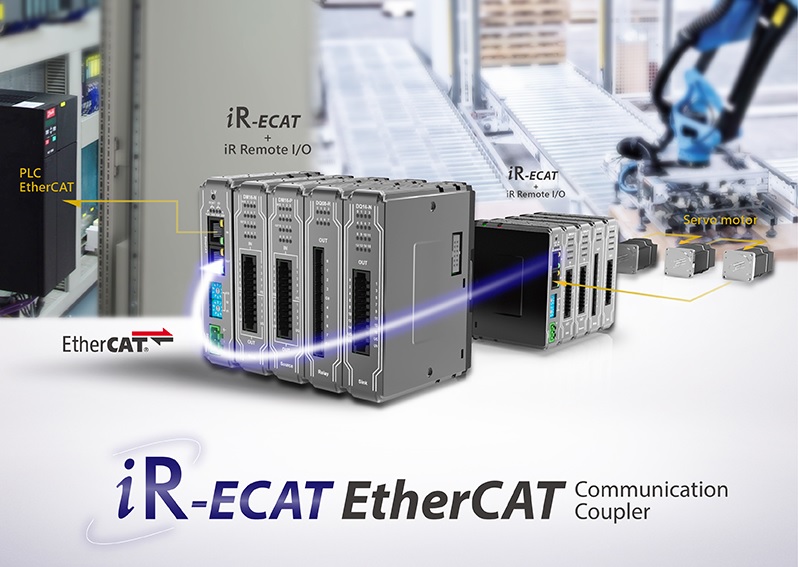 Product Introduction
EtherCAT (Ethernet for Control Automation Technology) is a high performance and very efficient Ethernet-based fieldbus system applicable for various types of devices in the industrial network systems. Thanks to these advantages, it is one of the most widely adopted industrial Ethernet technologies, and has gradually become a standard communication interface in the industrial field. Responding to the increasing demand for EtherCAT, Weintek is releasing a new iR Series EtherCAT communication coupler, iR-ECAT, to facilitate integration of iR Series I/O modules into EtherCAT applications.
iR-ECAT connecting iR Series I/O modules works as an EtherCAT slave, which allows control by EtherCAT master controllers simply after importing the ESI (EtherCAT Slave Information file) description file of the iR-ECAT. Being compliant to ETG5001, convenient to configure, and easy-to-use, iR-ECAT is a powerful tool for integrating EtherCAT systems in the industrial automation industry.
iR-ECAT Features

Exceptional Performance and Fast Communication
EtherCAT network is different from conventional industrial network. In conventional network, data exchange between each node pair requires at least one message, leading to low bandwidth utilization. In EtherCAT network, messages are read and processed as they pass through a node. If output data is required, it is inserted in the message and transmitted to the next node. iR-ECAT is equipped with a dedicated chip process EtherCAT to fulfill the demand for high speed and high efficiency network for industrial control applications.
Flexible Topology
EtherCAT supports almost any topology: Line, Tree, Star topologies and any combination suitable for the environment. Each iR-ECAT is equipped with two Ethernet ports, which eliminates the need for switches or hubs.
Simple and Affordable
Node ID can be easily configured by using rotary switches, and the unit is ready for use when it is connected to the network using an Ethernet cable, which greatly shortens the time needed for wiring and testing, and also saves manpower, making maintenance easier than ever.
Rich Combination of iR Series Modules
iR-ECAT can be connected to miscellaneous iR Series modules suitable for the application. With Weintek's ibus technology, the response speed of iR Series I/O modules is ensured to be comparable with EtherCAT's efficiency.
Unlike PLCs mounted on pedestals with limited number of slots, or fixed Remote I/O that is not expandable, modular design of iR Series provides great flexibility by allowing one to add I/O modules as the application may require.
Specification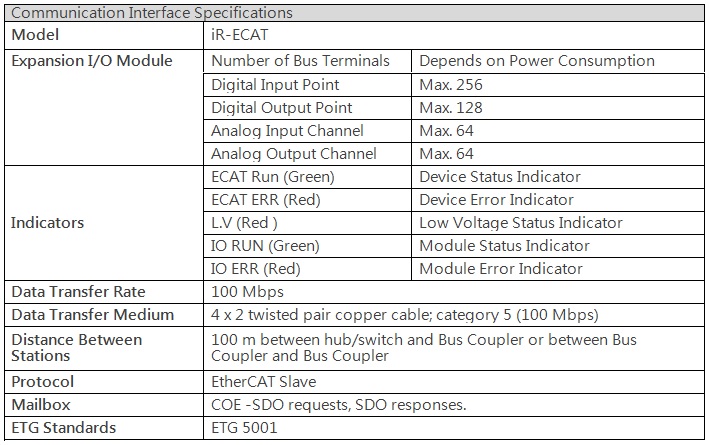 EtherCAT® is a registered trademark and patented technology, licensed by Beckhoff Automation GmbH, Germany.