MT8121XE3 – 12.1" HMI with High Resolution and Wide Viewing Angle IPS LCD Touch Monitor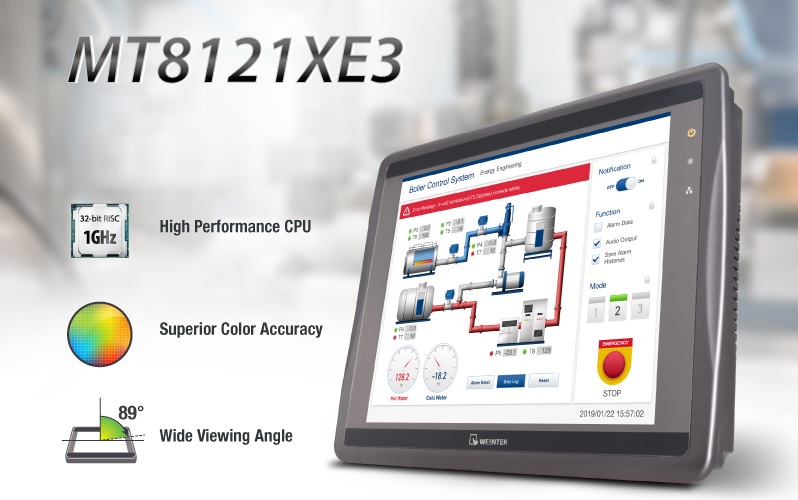 Product Introduction
In many applications, medium and large sized HMIs are not only used by its direct operators, but they often serve as visual data center for nearby personnel. However, because conventional TFT LCD offers limited viewing angle, HMI installation and application thus may be limited. Addressing this issue, Weintek is releasing a large sized HMI model, MT8121XE3, featuring IPS LCD that will promise much wider viewing angle.
MT8121XE3, a 12.1" HMI model with industrial-grade plastic enclosure, is equipped with high performance 1GHz processor, high resolution 1024 x 768 IPS LCD touch screen, and rich I/O ports including: Serial ports, an Ethernet port, USB Client/Host ports, and an SD card slot. As for software, apart from supporting numerous communication protocols used for popular industrial devices on the market, MT8121XE3 is also capable of a wide array of video features such as IP camera, USB camera, and VNC Viewer…etc. The featured IPS LCD will help deliver far more superior visual experience in video and image display thanks to its top-notch color reproduction; meanwhile, its wide viewing angle (89° all- round) should open more possibilities for HMI installation.
Weintek always places itself on the customer's side, and continues to develop new technologies that bring customers easy-to-use, high performance, and feature-rich HMIs that will deliver unprecedented user experience and help simplify the work of control system integration.
MT8121XE3 Features

High Performance XE Series Specification
Equipped with 32-bit 1GHz CPU, 256MB Flash, 256MB RAM.
High Resolution IPS LCD
High resolution (1024 x 768 pixels) IPS LCD with wide viewing angle (T:89°/ B:89°/ L:89°/ R:89°) makes monitoring less limited.
Rich I/O
Equipped with: USB 2.0 Host/Client ports, SD card slot, Ethernet port, Serial port (COM1: RS-232/RS-485 2W/RS-485 4W COM3: RS-485 2W)
Powerful Connectivity
Supports more than 300 protocols used by major brands of PLCs and controllers.
High Reliability
Industrial level protections: PCB coating and power isolation ensure machine durability and reliability in any harsh environment.
Applicable software version: EasyBuilder Pro V4.00.01 or later.