Siemens S7-1200/S7-1500 Tag-based Communication Technology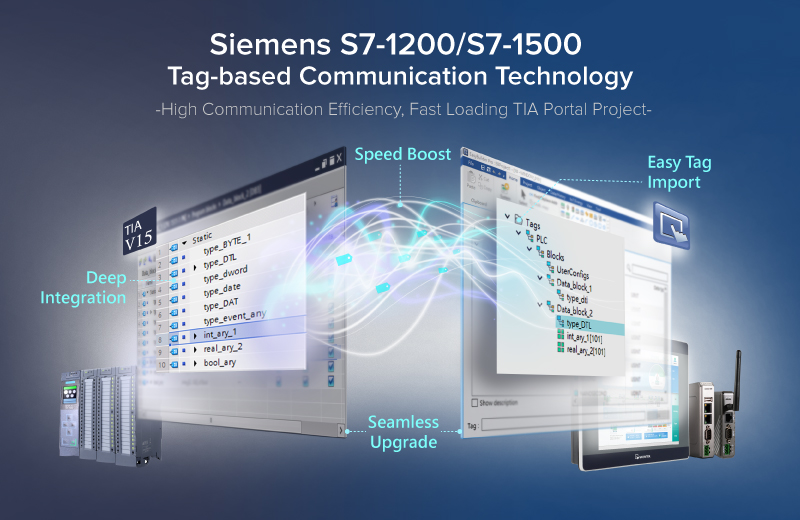 Presently, most HMI still use the conventional addressing scheme for communication with Siemens S7-1200/S7-1500 PLC, which is characterized by plaintext transmission, low speed, and poor address readability. In comparison, Weintek HMI has begun to support the tag-based communication technology used by the latest PLC programming software, TIA Portal. The new technology sees not only improvement in transmission quality, speed, and data security, but also allows PLC to make full use of all memory space and improves performance of HMI and PLC.
The new driver, Siemens S7-1200/S7-1500 (Symbolic Addressing), employs tag-based communication technology and provides four distinctive advantages: easy tag import, speed boost, deep integration, and seamless upgrade, all of which facilitate easy and quick integration of Weintek HMI into S7-1200/S7-1500 PLCs applications, optimizing operational efficiency of the whole system.
Easy Tag Import


PLC tags can be imported by connecting with PLC or directly loading TIA Portal project, making integration of HMI and PLC extremely easy and quick.



Speed Boost


Communication efficiency improvement may be observed as maximum data read size is now up to 50 times greater than before.



Deep Integration


The supported data types not only include primary types such as Boolean, Integer, Float, Single/Multi Dimension Array, Structure, but also the special types such as Time, Date, Counter, and Timer, facilitating wider application.



Seamless Upgrade


For Siemens S7-1200/S7-1500 (Absolute Addressing) users who are switching to the new driver, automatic mapping helps update address settings of the object and macros in the old project during the switch, saving users from the tedious reconfiguration job that ensues.
Applicable models: XE/eMT/cMT Series HMI models, and Gateway models.
Applicable software version: EasyBuilder Pro V6.03.01 or later. (Please select S7-1200/S7-1500 (Symbolic Addressing) driver.) (Download)