cMT-CTRL01: IIoT Controller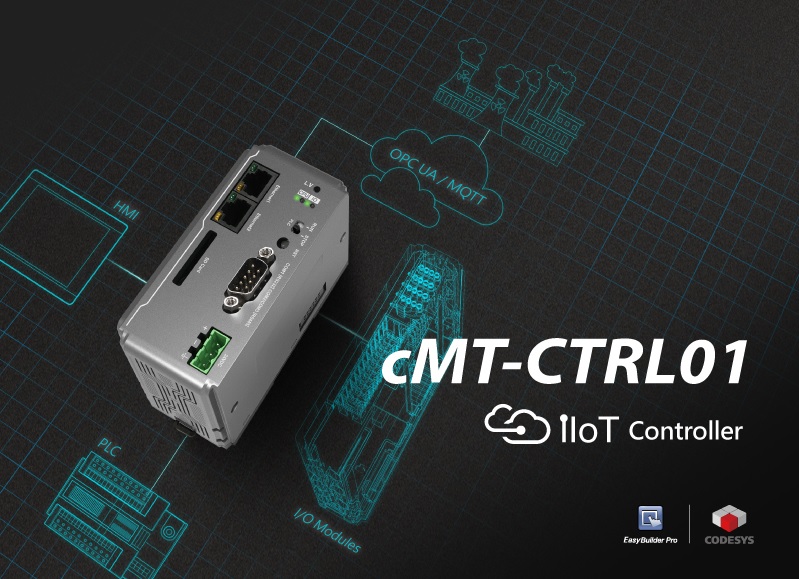 Product Introduction
As IIoT brings in the wave of Industrial 4.0 revolution, users are eagerly searching for ways to retrofit legacy factory with smart capabilities. To help facilitate this process, Weintek has integrated CODESYS and IIoT Gateway and released the cMT-CTRL01, IIoT Programmable Logic Controller. The new model with built-in CODESYS, in addition to working with all iR modules, features IIoT Gateway protocol translation and EasyAccess remote access service, all of which justify its prime role in a smart automation system.

Features
CODESYS-Based High Performance PLC System
In compliance with IEC 61131-3 Programmable Logic Controller (PLC) standard, CODESYS supports multiple languages such as FBD/LD/IL/ST/SFC/CFC. cMT-CTRL01's PLC system not only has built-in support for powerful CODESYS, but also works with iR Series modules that can be flexibly added to cMT-CTRL01 to expand the system as the application may require.

Built-in Support for IIoT Gateway
With built-in Gateway, cMT-CTRL01 supports IIoT protocol standards: OPC UA and MQTT. Data from both CODESYS and the connected PLC can be uploaded to IIoT datacenter using OPC UA or MQTT.

Supports Over 300 PLC Drivers
With built-in Modbus TCP/IP Gateway, cMT-CTRL01 supports the protocols used by over 300 major brands of PLCs, making it suitable for a wide array of applications.

Built-in Support for EasyAccess 2.0
Users can utilize the built-in EasyAccess 2.0 to update the device's CODESYS project and monitor its operation status, thus reducing maintenance costs. With EasyAccess 2.0 push notification, users receive immediate notification about the operation errors on their portable devices for quick troubleshooting.

Data Sampling and Event Log
IIoT Gateway supports data sampling and event log functions, and associated historical data can be stored into SD card or synchronized to SQL database.
Dual Ethernet Ports
cMT-CTRL01 is equipped with dual Ethernet ports that can be freely assigned as one of the following:
1. One Ethernet port for CODESYS and the other one for IIoT Gateway.
2. Both Ethernet ports for IIoT Gateway, whereby one port connects to the host computer or internet, and the other one connects to an onsite Ethernet-based PLC.
Specifications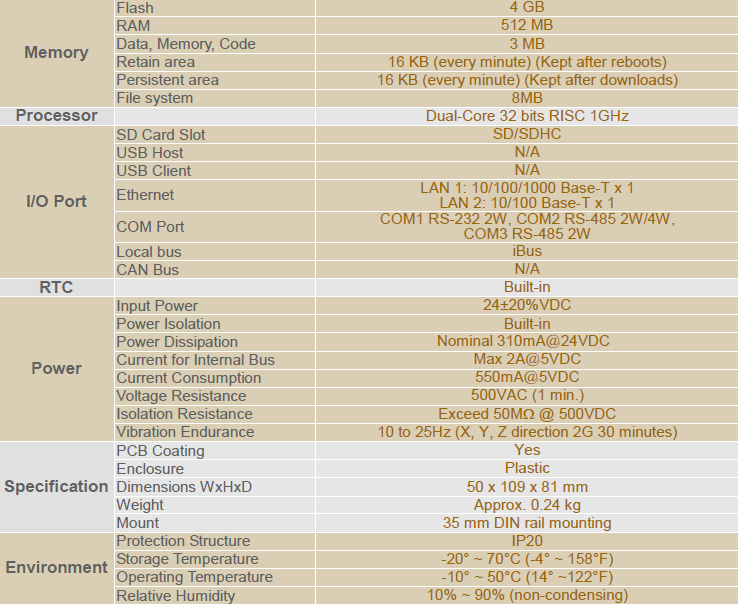 Note:  CODESYS® is a trademark of 3S-Smart Software Solutions GmbH.