cMT-FHDX – Upgraded HMI Compatible with Screens of Various Resolutions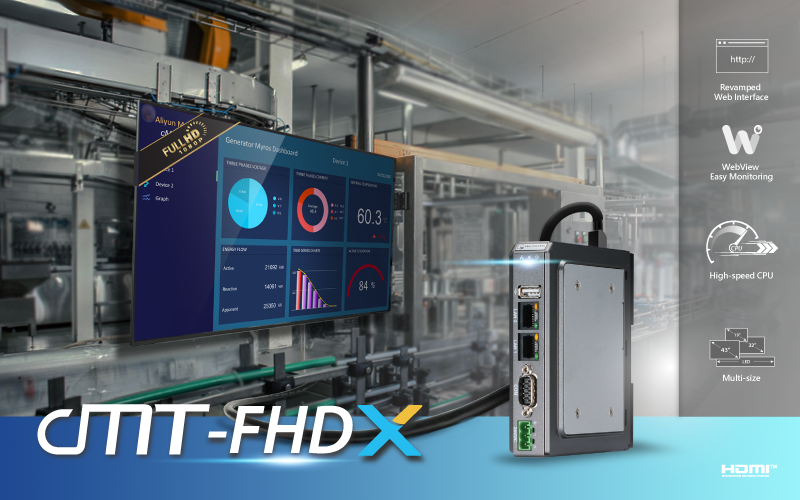 Product Introduction
With lightning-fast operation speed and novel features, cMT X Series has received much enthusiastic responses from the customers. Responding to customer anticipation, Weintek now proudly releases cMT-FHDX, the HDMI-enabled model of cMT X series.
Via HDMI, cMT-FHDX supports 1920 x 1080 (Full HD) video output that can be shown on a very large screen, giving adopters an HMI larger than any available on the market. It also supports custom resolution which makes it compatible with screens of various resolutions, even ones that has special aspect-ratio such as long and thin screens.
The ability to output video to large screens makes cMT-FHDX particularly suitable for Andon system and onsite information display systems. For these applications, the cMT-FHDX collects data about equipment status, production quantity, and quality management for the production line, and then displays them on a large screen for real-time monitoring by onsite operators.
cMT-FHDX, compared to its predecessors, gets 1) major computation specification upgrade 2) revamped web interface, and 3) WebView, an extremely easy way for monitoring.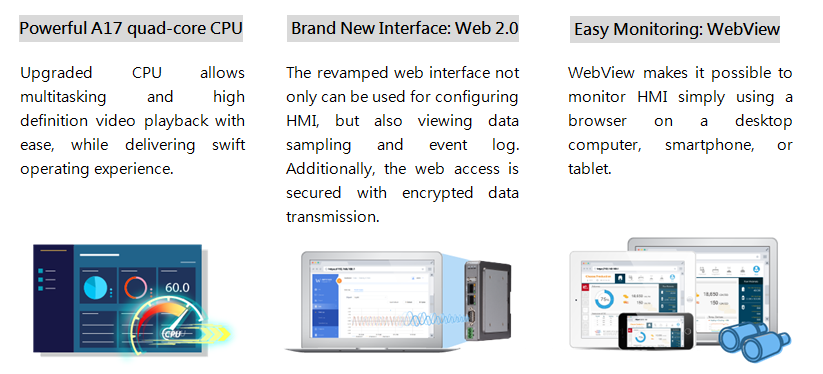 The palm-sized cMT-FHDX should be well suited in any corner. And with full suite of hardware support: RS232 RS485 2W, RS485 4W communication ports, dual Ethernet ports, built-in 4GB Flash memory, and external USB drive, plus software support: 300+ PLC drivers and IIoT protocols standard: MQTT and OPC UA, and SQL database connectivity, cMT-FHDX is the solution that will comfortably meet most demands.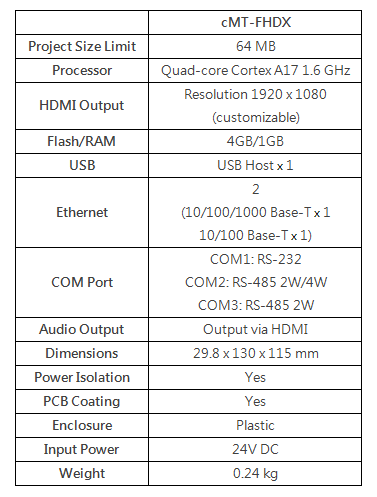 Software: EasyBuilder Pro V6.04.01 or later